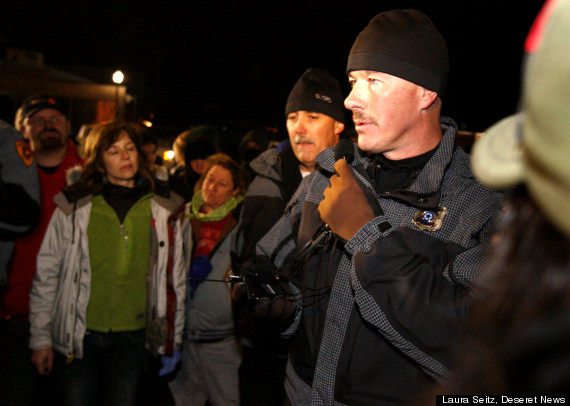 In November 2011, a homeless man estimated to be in his 40s was found dead in a tent at the Occupy encampment in Salt Lake City's Pioneer Park. He died from a mix of a drug overdose and carbon monoxide poisoning from a portable heater. The incident prompted city officials to determine that it was no longer safe for the protesters to camp in the park overnight.
Salt Lake City Police Chief Chris Burbank, 46, was in charge of the eviction. But Burbank 
took a decidedly different approach
 from his counterparts in other cities who used
aggressive
, confrontational measures to oust their own Occupy encampments.
Burbank showed up at the camp and talked to the protesters, in some cases one on one. He explained that they'd need to start leaving the park at night, although they could come back during the day. He said that when the time came for them leave, they could do so peacefully, or they could choose to be arrested. He even asked them how they'd like their arrests to take place, in case they wanted the TV and newspaper cameras to photograph them giving themselves up for their cause.
Unconventional has been Burbank's modus operandi since he was appointed chief of police in 2006. Be it the drug war, immigration, or the handling of protests, Burbank's mantra to his officers is the same: Use the minimum amount of force necessary to resolve the situation. Or as Burbank puts it, "It's not can I do it, but should I do it?"
When it came time to evict the Occupy protesters in Pioneer Park, then, Burbank and his officers wore their standard, everyday uniforms, not riot gear, as police units in other cities had. Burbank also made sure he was first on the scene — that the first person the protesters saw was the one with whom they had already had a conversation.
Most of the 200 protesters left voluntarily. Some took advantage of Burbank's offer to have his officers help with their belongings. Nineteen chose to be arrested. There was no violence, no rioting and little anger. And so as images of violent clashes between Occupiers and police in other cities made headlines across the country, in Utah, some Occupiers even praised Burbank for the way he had handled their eviction. It's one reason why the Salt Lake Tribune named Burbank its 2011 "Utahn of the Year."
"I just don't like the riot gear," Burbank says. "Some say not using it exposes my officers to a little bit more risk. That could be, but risk is part of the job. I'm just convinced that when we don riot gear, it says 'throw rocks and bottles at us.' It invites confrontation. Two-way communication and cooperation are what's important. If one side overreacts, then it all falls apart."